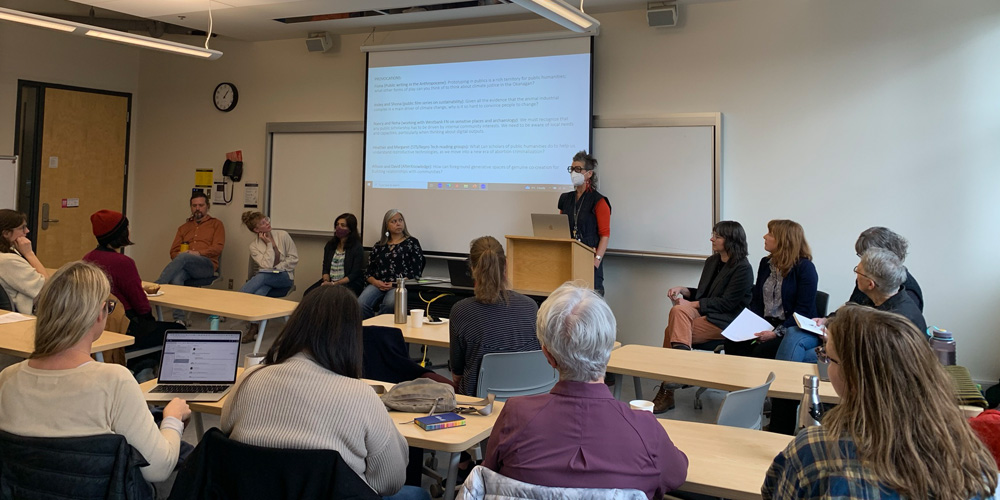 On 16 January, 2023 the Public Humanities Hub Okanagan was delighted to host the first in a series of events exploring the past and future role of the Public Humanities Hub at UBC Okanagan.
Looking Back, Taking Stock brought together faculty, community members, and students to revisit the many kinds of public humanities work that has been undertaken over the past decade – both within and preceding the life of the PHH-O — and to discuss what we want to see strengthened and continued. We wanted to look at lessons learned not only from PHH-O funded activities in the past few years, but also at the longer history of public humanities innovations offered by some of our colleagues.
Let's Continue the Conversation
Looking Back, Taking Stock of our own previous experiences was a powerful reminder of the transformative power of the humanities. It also provided an important opportunity to consider what enables, supports, but also constrains this vital work. We look forward to continued discussions on critical issues such as those mentioned above. Thank you again to all the speakers and participants for making this event such a memorable and enjoyable experience.
For those who were unable to attend the Public Humanities Hub event, the recording of the presentations is now available online for viewing at Looking back, taking stock : Public Humanities at UBC Okanagan
We also invite you to participate in our remote survey, featured on Instagram account PHHO – Instagram, or add your comments to our jamboard PHH-O – Pop-Up Survey online 2023!
Below are some highlights and findings from the events.
Public Humanities; Taking the Temperature
The event was attended by approximately 40 members of the university community, including faculty, staff, and students. In order to get a handle on what we were all thinking about and hoping for in relation to public humanities, participants were invited to engage in a pop-up survey when they entered the room:
What is Public Humanities?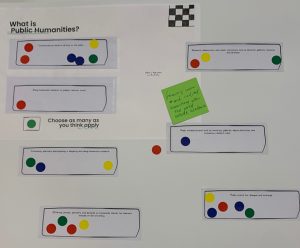 When it comes to the question of what public humanities truly means, the survey results evoked a range of responses. The majority of participants agreed that public humanities is all about communicating directly with the public. This is a powerful statement, as it highlights the importance of building bridges between academia and the wider community. This response emphasizes the need for genuine connections and emphasizes the importance of building relationships with the communities we serve.
The second most popular response, with 5 votes, is public events for dialogue and exchange. This response underscores the vital role that public gatherings and conversations play in cultivating understanding and promoting empathy across diverse communities. The survey also revealed that 4 participants believe that offering courses, seminars, and lectures on humanities themes for learners outside of academia is an essential component of public humanities. These respondents emphasized the transformative power of education and the importance of making it accessible to everyone.
The respondents also recognized the importance of research collaborations with public institutions, public infrastructure, and community partners in designing and doing humanities research. Lastly, the option of doing humanities research on publicly relevant issues, although receiving only one vote, speaks to the desire to address and tackle critical social issues that matter to the public.
UBCO should support Public Humanities research that is/does: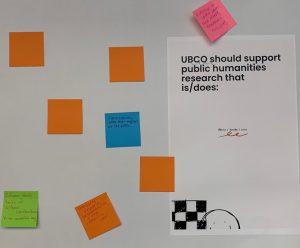 When it comes to what UBC Okanagan should support in terms of public humanities research, the responses were overwhelmingly clear. Participants highlighted the importance of interdisciplinary work that engages with different publics, recognizing that working across different fields and disciplines is vital to making research accessible and meaningful for the broader community. Respondents also stressed the importance of communicating the limits of cultural constructions in an accessible way, acknowledging the role that culture plays in shaping our perceptions of the world around us.
In addition, participants emphasized the importance of translating research for communities in ways that are relevant to their lived experiences. Finally, participants recognized the importance of creating opportunities for individuals and groups to learn about each other's research and initiatives, underscoring the importance of collaboration and community-building in the field of public humanities.
Sampling Public Humanities Work Across the last Decade
The main portion of the event comprised five short lightning talks, followed by audience Q&A. Featured speakers and the projects they spoke about included:
Dr. Fiona McDonald (CCGS, FASS): Public writing and the Anthropocene: Using research-creation for climate justice
How does co-creating knowledge with publics through writing, play, and sound generate local responses to climate realities? This presentation gives a snapshot of how modalities of research-creation involving sound recordings, greeting cards from the Anthropocene, and game play around energy transitions resulted in a public exhibition at the Kelowna Art Gallery in July 2023.
Nancy Bonneau (Westbank First Nation) and Dr. Neha Gupta (CCGS, FASS) – Engaging with Westbank's Heritage Using a Web-based Storymap
This presentation outlined the goals and development of a Web-based storymap to engage with Westbank's heritage. The project is a part of the Public Humanities Hub Fellowship between Westbank Archaeology and UBC Okanagan.
Dr. Allison Hargreaves (ECS, FCCS) and Dr. David Jefferess (ECS, FCCS): AlterKnowledge 
The AlterKnowledge Discussion Series was active from 2012 to 2018, emerging out of the earlier Culture/Power Discussion series (2009-2011). These monthly free public discussions and workshops sought to create generative spaces for critically engaging with the way colonialism continues to shape relationships and identities in the Okanagan and beyond.
Dr. Jodey Castricano (ECS, FCCS): "Welcome to the Anthropocene: Now What?" Storytelling: Then & Now
This presentation discussed a documentary film series organized and presented as a means of creating public and local engagement on animals in the Anthropocene through storytelling. This project was coordinated by Dr. Castricano and Dr. Shona Harrison, and its second iteration is currently in progress.
Dr. Margaret Carlyle (FASS) and Dr. Heather Latimer: Revisiting Reproductive Rights & Technologies
This talk provided overview the Science & Technology Reading Group's focus on Reproductive Technologies in the context of ongoing challenges to reproductive rights.
These presentations were insightful and inspiring, highlighting the ways in which the public humanities can help us understand and appreciate past, present, and future social, cultural and environmental challenges
We also invited each speaker to offer a key question or provocation to kick off our Q&A portion. These included:
Prototyping in publics is a rich territory for public humanities; what other forms of play can you think of to think about climate justice in the Okanagan? (Fiona McDonald)
We must recognize that any public scholarship has to be driven by internal community interests. We need to be aware of local needs and capacities, particularly when thinking about digital outputs. (Nancy Bonneau and Neha Gupta)
How can we foreground generative spaces of genuine co-creation for building relationships with communities? (Allison Hargreaves and David Jefferess)
Given all the evidence that the animal industrial complex is a main driver of climate change, why is it so hard to convince people to change? (Jodey Castricano)
What can scholars of public humanities do to help us understand reproductive technologies, as we move into a new era of abortion criminalization? (Heather Latimer and Margaret Carlyle)
What Issues Still Need to be Addressed?
These provocative questions lead to a discussion about previous events. For example, it was noted that the Alterknowledge sessions (convened by Allison Hargreaves and David Jefferess) were well attended, and while recognition within the university of the value of community-based research seemed constrained at that time, this situation has since improved. Funding and regularity of events were identified as important factors, as well as graduate students' recognition of participation. The issue of saturation was raised, with the need to ensure that events are not competing with each other. How can faculty get more basic support in the often arduous bureaucracy of event planning? How can we ensure a regular and vibrant program of activities without overloading our schedules – as both organizers and hopeful attendees?
The conditions required to have public humanities work recognized were discussed, and the responses highlighted the need for clear definitions of what constitutes research in the context of public humanities, and for UBC Okanagan and its departments to continue recognizing the value of this work as research.
There was also discussion about how to define public(s) and the need for different approaches to attract interest, and co-create and co-imagine different futures. The question of who is part of the public and whether the work involves underserved populations was also raised.
The idea that not all knowledge should be made public was acknowledged, and it was noted that some knowledge is only for community members due to risks of cultural appropriation. How can we ensure that we are making appropriate decisions about which community knowledges should or should not be made public, and how? The benefits of digital and online objects were also discussed, as well as the need to ensure that communities understand the appropriateness of sharing them broadly.
Finally, the group discussed how this work is viewed within the university institutional context, how to justify and fund it, and how it relates to government policies that guide and restrain communities. The need for a clear justification for the work and its potential for radical change was emphasized. Overall, the discussion highlighted the many complexities involved in doing public humanities work, and the need for ongoing dialogue and collaboration to ensure that it is meaningful, impactful, and accessible to all.